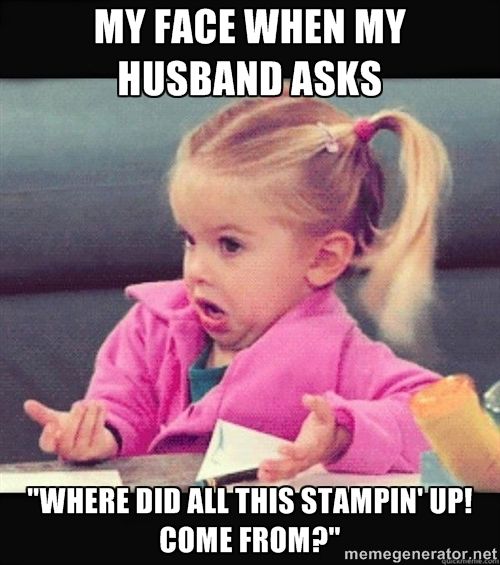 You have to love it!!
Please forgive for the massive missive but a busy week is coming up!
Hi, Gals,
This is especially true for those of you that went home with bags and bags of goodies at bargain prices! Thank you sooooo much for coming yesterday! Ifffffff.....you missed out, we'll have one last hurrah at my house for the remaining items (some stamps, lots of paper, some tools, some freebies, quite a bit of ribbon and odds and ends)....
Monday, June 8
From 6-9 pm
More markdowns and...
You'll get an additional 15% discount
on your items!!
Just email me if you'd like to stop by!
Don't forget that our
rewards are in effect for everyone! Your choice of a Designer Paper 12-sheet,6x6 sample of Bohemian or English Garden, or.....rhinestones, or....pearls, or......a new In-Color ribbon share.
Now here we go with a busy stamping week coming up!!
Monday--Art Gallery Stampers, 10:30 am and 1:30 pm at the Art Gallery of Viera. Supply list will follow this afternoon. Still putting the 2nd card together
***Please RSVP****this afternoon and I'll have your kits ready and waiting!!
Wednesday--Cocoa Beach Stampers, 9:30 am-11:30 am at the Cocoa Beach Library. 3 cards! Yay! ***Please RSVP***by Tuesday so that your kits will be at the ready too!
Titusville Art League--Thursday, 11 am-1 at the Titusville Art League. ***Please RSVP***by Wednesday am so that I may prepare for our class.
Downline Corner--Don't forget our first meeting/awards luncheon on Friday, June 26 at noon at the Pizza Gallery in the Shoppes of Viera. You will be treated and feted! I am certainly using a lot of high fallutin' words today, aren't I?:-) More to come!! Thank you, Team!!!
Happy Stampin' Hugs and Many Thanks to All!!
Ree